Hello, everyone... I've got some sad, sad news. It's possible that many of you have already heard about it. If you haven't, well, now you will.
Something terrible happened last Thursday, and the whole world of Internet reviewing is grieving since Saturday. Have you heard of Justin Carmical, also known as JewWario? He was a reviewer who made videos about imported games and about food. Born in 1971, he was also the oldest reviewer on That Guy With The Glasses (TGWTG). On January 23rd, he shot himself. His wife was on the other side of the door. That did not stop him.
Why did he shoot himself? As everyone at TGWTG will tell you if you ask them, he was one of the nicest guys to have ever existed. Always lending an ear to everyone's problems, always jumping into the fun every time a comedy bit was being filmed for the site, always lighting the mood to cheer people up. The only reason that was disclosed is depression. Again, as everyone at TGWTG will tell you, if he was depressed, he never seemed to be, he was always smiling. If he wasn't joy incarnate, then he was really close to being it. Depression about what? Why? There are barely any theories going around. Was he depressed because he didn't get a satisfying number of views on his videos? Was he depressed because he was often considered the silliest one of the bunch, and trolls had started insulting him on it? Was it because of monetary problems, never being able to live through his passion or being unable to keep a steady job because of the state of the economy? We might just never find out.
I'll play the honesty card. I didn't know Justin personally. I had never met him in person. I never spoke to him, on Skype, or on a forum. I never sent him a Tweet on Twitter or anything. The hardest part, I didn't even watch his own videos. However, I did see him quite a number of times in other contributors' videos, whether it's the crossover reviews of the Pokémon movies with Lewis Lovhaug (Linkara) and William DuFresne (ThatDudeInTheSuede), or the anniversary specials. He seemed to like everything, he had so much fun...
Saturday, the day we learned of the news, I listened to Radio Dead Air live for the first time in the evening. There was a discussion about Justin. Many contributors from TGWTG discussed on the good times they had with him. How his overall silliness was always welcome, and how it made the reunions better, how he helped many contributors with their first experiences at conventions and the like. Truth is, Justin wasn't only joy incarnate, he was niceness incarnate. How often have I heard people comparing him to Mister Rogers. It's clearly not far from the truth.
Regardless of the reasons, his suicide is still what hurts the most. An accident would have been less of a surprise, less of a shock, because we have no control over the actions of others, we have no control over accidents. However, he committed suicide by shooting himself, and that's where all the shock lies. Look, I know depression hurts. It really hurts a lot, I know; I had episodes of depression in the past too. The major difference is that Justin chose to end his life.
When you're depressed, never believe that suicide is the only way out. It is not the solution. It shouldn't be an option in the first place. Suicide means the self-inflicted end of life, with both the immediate results, and the psychological aspect that comes afterwards. If a depressed person believes that suicide is the only option, often it is because that person doesn't seek help. There are ways to avoid such a horrible demise. There are suicide hotlines that can be called. There are organisms created for suicide prevention. If you're depressed and thinking about suicide, you can use either of those means. If you aren't, then please donate to such organisms. It's very important, and your donation could help preventing other suicides. Also, if you are thinking about suicide, here is one thing to do. Try to make a list of people who you know will be grieving your death. By the end, you will be surprised how many people are on the list. Tell yourself that you'll miss to all these people, and even more. Tell yourself that all these people will prefer to help you now than have to face the aftermath of your final action. And as long as you live, you can go to any of these people for help. Speak to them about depression. Tell them about your problems. They'll listen. Most of all, they will make sure you do not commit the irreparable.
Justin really was a reference in the world of Internet reviewing. Yesterday, when I was listening to Radio Dead Air, something interesting was said about Justin. He began his career as Internet reviewer in the times when negativism was saturating the means of expression. If a review wasn't negative, it wasn't interesting. The fad was at reviewers screaming of anger at the things they reviewed, swearing out loud about the flaws, and being overall cruel. Then JewWario came in, with the little show You Can Play This, in which he was very positive towards the imported games he was reviewing. In a way, he was a precursor of positive reviewing on Internet. He made the Web a better place, through positivism. And in a way, I owed him this eulogy, because, as you may have noticed if you're one of my readers, I am very positive in my reviews. And without him to open the way for this kind of reviewing, maybe me and dozens of other rookie Internet reviewers wouldn't have begun their own sites, their own blogs. Thanks, Justin. You'll be missed.
R.I.P. Justin Carmical (JewWario), April 11, 1971 - January 23rd, 2014. If there's a Heaven, then you've met more than twice the requirements to go there.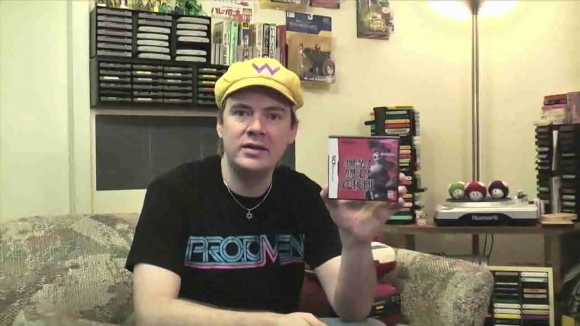 In memoriam, the most famous picture of JewWario.